Present in every home and even in hotels, dust mites harm every allergic person's sleep. Not being able to leave home for the weekend without activating an allergy has become an everyday reality for allergic patients.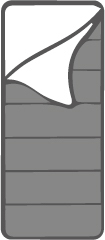 Adults or children, invited for a short stay or simply for a sleepover at a friend's house, the allergic patients are often compelled to refuse an invitation due to the risk of being in contact with dust mites allergens. But in the case of a sale representative, the professional obligation gets the upper hand over the allergy.
Some allergic patients are already equipped with a home anti-dust mite set, but it's impossible for them to remove and put the covers back several times a week to protect themselves from allergens.
That is why, ProtecSom® created for the allergic patients, a sleeping bag which reduces the contact with mite allergens wherever you are. Medical device certified, this sleeping bag acts as a mechanical barrier, impermeable for dust mites. Appropriated for late-night outings, the sleeping bag doesn't entirely enclose allergens but allows for reduce exposure to dust mites and consequently lowers the risk of allergy. Equipped with an anti-dust mites pillow cover, it also guarantees sleeping comfort.

Order a sleeping bag Texaal®